Golfbettingtipster.com - Terms Of Use
Previews and pre-event analysis from Golf Betting System's PGA Tour and European Tour coverage
Terms Of Use
1 Introduction
1.1 GolfBettingTipster.com is a brand name of Creative Managed Solutions Ltd (Registration No. 06890311) incorporated in England and Wales. Registered office at Mercer House, 15 High Street, Redbourn, Herts, AL3 7LE.
1.2 golfbettingtipster.com is a web based service of Creative Managed Solutions Ltd (referred to below as, "we", "our" or "us").
2 Terms of Use
2.1 These Terms of Use apply to any and all use of this web site. By accessing and using this web site you agree to be bound by these Terms of Use. We reserve the right to update or amend these Terms of Use at any time. We may make alterations to these Terms of Use from time to time and these variations shall become effective immediately upon being accessible from this web site. If you do not agree to be legally bound by all the following terms please do not access and/or use golfbettingtipster.com
2.2 You have come to a web site that is aimed at the United Kingdom and European Union markets. We cannot guarantee that it accords with local laws in other countries.
2.3 You may not copy, reproduce, republish, download, post, broadcast, transmit, make available to the public, or otherwise use golfbettingtipster.com content in any way except for your own personal, non-commercial use. You also agree not to adapt, alter or create a derivative work from any golfbettingtipster.com content except for your own personal, non-commercial use. Any other use of golfbettingtipster.com content requires the prior written permission of Creative Managed Solutions Ltd.
2.4 You may not use our web site for any unlawful purpose. You must not use this web site in any manner which could damage, disable or overburden or impair this web site or interfere with any other party's use of the web site.
3 Intellectual Property Rights
3.1 Our web site (including the software used to operate it) and the trade marks and all contents and any information or material used in connection with the web site are owned by Creative Managed Solutions Ltd and/or its licensors. You are not granted any right or interest in these except as stated in these terms of use.
3.2 We do not give you any right or interest in any copyright or intellectual property rights in any part of your web site nor the right to copy any part.
3.3 Copyright extends to the design, look and feel of this web site, including without limitation all images and designs on it.
3.4 This web site and our logos are trade names or trade marks including without limitation GolfBettingTipster.com and such trade names and trade marks may not be used by you or any third party without our express written permission.
4 Disclaimer and Limitations of Liability
4.1 We provide and maintain this web site for personal use, on an "as is" basis. The content of our web site may contain inaccuracies and typographical errors. The content of our web site is provided without any representations or warranties of any kind (whether express or implied by law), and all such representations and warranties are (to the fullest extent permitted by law) hereby excluded.
4.2 Subject as aforesaid, to the maximum extent permitted by law, we exclude liability for any loss or damage of any kind howsoever arising, including without limitation any direct, indirect, punitive or consequential loss whether or not such arises out of any problem you notify to us about and we shall have no liability to pay any money by way of compensation, including without limitation all liability in relation to:
4.2.1 any incorrect or inaccurate information on the web site and all interruptions to or delays in updating the service;
4.2.2 the infringement by any person of any intellectual property rights of any third party caused by their use of this web site;
4.2.3 any amount or kind of loss or damage due to viruses or other malicious software that may infect a user's computer equipment, software, data or other property caused by persons accessing, using or downloading web site, or from transmissions via emails or attachments received by us or our licensees;
4.2.4 the availability, quality, content or nature of the other sites on the internet that are owned and operated by third parties ("External Sites") to which this web site links and web sites located on or through any External Site nor for any transactions involving External Sites (including 'cookies', personal data, confidential information, or purchases of domain names or other services). You should contact the site administrator or webmaster for those External Sites if you have any concerns regarding such links, web sites or transactions;
4.2.5 all representations, warranties, conditions and other terms which but for these terms of use notice would have effect.
4.3 These terms of use above shall not limit any rights you might have as a consumer that may not be excluded under applicable law nor shall it exclude or limit our liability for death or personal injury resulting from neither our negligence nor any fraudulent representation.
4.4 No person other than Creative Managed Solutions Ltd or licensee of such Intellectual Property Rights may display, publish, copy, print, post or otherwise use the web site and the information contained therein for the benefit of any other website without our or the relevant licensee's prior written permission.
4.5 Creative Managed Solutions Ltd does not warrant that functions contained in golfbettingtipster.com content will be uninterrupted or error free, that defects will be corrected, or that golfbettingtipster.com or the server that makes it available are free of viruses or bugs.
4.6 We do not offer bookmaking or services related to bookmaking. In order to place bets, etc. you must access the bookmakers' web sites and comply with the bookmakers' terms and conditions. The information on golfbettingtipster.com originates from the various bookmakers' official web sites and is updated regularly. However, due to continuous changes in the bookmakers' odds, differences between the information shown here and current information on the bookmakers' web sites will occur. Please always check the odds at the bookmakers' sites prior to placing a bet.
4.7 Creative Managed Solutions Ltd nor anyone associated with golfbettingtipster.com accepts any responsibility whatsoever for any loss that may be sustained as a result of the use (or misuse) of the site, irrespective of how that loss might be sustained.
4.8 We do not guarantee winnings and cannot be held liable for losses resulting from the use of information obtained from golfbettingtipster.com
4.9 Any links from golfbettingtipster.com to third party web sites do not constitute an endorsement by Creative Managed Solutions Ltd of any products or services available on such web sites and we do not necessarily support or approve of them. You use such links entirely at your own risk and we accept no responsibility for the content or use of such web sites or information contained in them.
5 Operation of the Website
5.1 Creative Managed Solutions Ltd may at its sole discretion from time to time without notice change the format and content of this web site and/or the services and suspend the operation of the web site and/or the services, for example, for repair or maintenance work, or in order to update or upgrade the contents or functionality of the web site and/or the services. You are responsible for obtaining and updating your own web browser, and for all amounts payable in respect of connection to the internet including any telecommunications charges for time spent online in respect of use of the web site;
5.2. You will comply with all directions and instructions given by us in relation to the use of and access to the web site and the services. We do not accept responsibility for the security or content of any information which you may supply through this web site and will not be liable for the content of any communications received by you from other users.
6 Termination
6.1 We shall be entitled to terminate these Terms of Use and immediately remove, cancel or suspend access to and use of the web site upon your breach of any part of these Terms of Use whatsoever.
6.1.1 Termination shall be without prejudice to the accrued rights of either party.
6.2 We shall not be liable in any amount for failure to perform any obligation under these Terms of Use and if such failure is caused by the occurrence of any unforeseen contingency beyond the reasonable control of such party including without limitation Internet outages, communications outages, fire, flood, war or act of God.
7 General
7.1 Except as provided above there are no other warranties, conditions or other terms, express or implied, statutory or otherwise, and all such terms are hereby excluded to the maximum extent permitted by law (but subject to your statutory and common law consumer rights).
7.2 We act as principal on our own account and not as agent for you or any other person.
7.3 These Terms of Use constitute the entire agreement between you and us and shall apply to the exclusion of all other terms or conditions of contract which you may purport to propose.
7.4 In the event that any part of these Terms of Use is held to be unenforceable, such part will at our option be construed as far as possible to reflect the parties' intentions and the remainder of the provisions will remain in full force and effect.
7.5 These Terms of Use shall be governed by and interpreted in accordance with the laws of England and Wales and you consent to the exclusive jurisdiction of the English Courts in all disputes arising out of or relating to the use of golfbettingtipster.com or it's services. This web site is operated and controlled by Creative Managed Solutions Ltd from its offices in the United Kingdom. We make no representation that information or material contained in golfbettingtipster.com is appropriate for use in other jurisdictions. Users who access the web site from other jurisdictions do so at their own initiative and are responsible for compliance with any local laws.
8. Contact You may contact us about any problems or questions with this web site at feedback@golfbettingtipster.com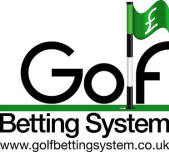 About GolfBettingTipster.com
Responsible Gambling:
GolfBettingTipster.com Contacts: